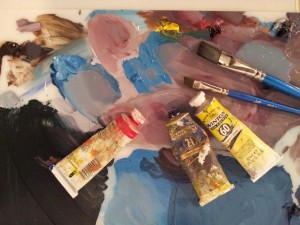 I am continuing with my Art Studio Process Blogs where by I am writing on my experiences and points that come up in relation to my process of working in my Art Studio this month.
So far since being back in a studio for the past 3 days it has been interesting to see different points coming up again that used to be a part of me/my experience in the past as I participated within this whole Art Point and being "The Artist" and playing this entire role. Because that is just it, "The Artist" is actually a kind of Personality that one construct and participate in. A suit that one put on, an 'idea' that one "take on" as oneself and live the entire 'role' of "The-Artist". Yet it is not in fact real, Particularly within the context of who one is really existing as, and what really goes on inside self. When one look at what actually goes on inside one's mind, it is far from the idea one creates about oneself as "The Artist" or any other Personality that one live out. Sex, Money, Competition, winning, Survival, jealousy, do I look good in these clothes… This is who people actually are and no matter what personality you project and act out, We are all the same, Walking Egos only concerned about ourselves, concerned about surviving, Not seeing and not caring about the millions dying around us everyday. Our personality software does not included in its programming anything to do with the people that die daily of starvation…unless you are walking some saviour philanthropist personality –  thus these apparent unique personalities we have are really quite delusion when one realize that we are all just concerned with the same Self Interested shit as everyone else and if one is self honest would realize that "greatness" cannot exist within a world where so much Suffering and Abuse gets completely ignored.
"The Artist" is not real. Being/living the Artist is simply another way to separate ourselves from each other trying to become something more, something exalted. I see this as trying to superimpose value onto yourself without actually living self value. It is like a short cut. We take on these personality suits as a way to create a fictional perception of value instead of actually valuing ourselves though honouring life and ourselves in fact by walking/living what is best for all in every moment. If we actually value ourselves we would not require to try and build ourselves up all the time by creating special ideas about ourselves as being some superhero with special abilities.
I even seen this point come up today as I painted and I noticed myself starting to generate this idea about myself and about my art being unique and special…Though when I really stand back, it is just a picture depicting some stuff hanging on a wall, nothing miraculous like is so easily able to be perceived.
This is a point that I trapped myself within previously as I walked the whole art point. I projected "special value" onto art I saw. I remember going to Italy and looking at the Art Works by the Master Artists and I was in search for that magical special ingredient that I believed actually existed and is what made a masterpiece a masterpiece. I had a similar experience to this when I tried out meditation and would sit and close my eyes and trying to relax ….like the spiritual guru who stresses himself out because they really really want to be relaxed and zen like.
Though Humanity is really good in believing in shit that is not there – This may be an indication of how we are able to continue living day in and day out believing that "everything is ok" meanwhile the world and our lives are all falling apart around us.
I have realized that  there is no special meaning or value or ingredient that makes a masterpiece. It is literally just pictures on walls which we have attached special value to but that obviously is not special as how can specialness exist in a world where we watch human beings starve to death on the television and then switch to see who's on the red carpet and seeing the score on the game.
And so the same with the Art that I make. The point is not to create and project some special value onto it that is not really there. That is delusional, that is Ego. Or to, through the Art, by projecting special meaning onto it, create an idea about myself as being unique and special.
I am me. I am who I really am, I am what really goes on inside me. The truth of me, the real me that exist underneath all the beliefs I have about myself. Thus the point is to not create ideas about myself but get to that real stuff of who I am exiting as and work with that. That real shit that we ALL are, no different from one another.
So yes, I noticed this point of me going into this point of projecting special value onto the art I have been making where I perceive it to be something special. Like the singers who go to audition for American Idol or some show like that and they believe that they are good at singing but when they get to the audition, it turns out that they are actually not able sing, (from a technical perspective) yet they themselves believed they were great at singing? At least that is what I was seeing when I would watch some of those auditions – Though in relation to what I am doing with the art – The point is to not project onto the art something that is not there at all, and in this keep it practical and keep it physical. A painting is not going to magically save the world. Unless of course you believe in Ascension and 2012 and being saved by some miracle, then you might still believe in the whole art thing, that "Art" actually really exist, when "Art" is in fact "Ego" as it is just an idea of values and meanings created and projected onto stuff.