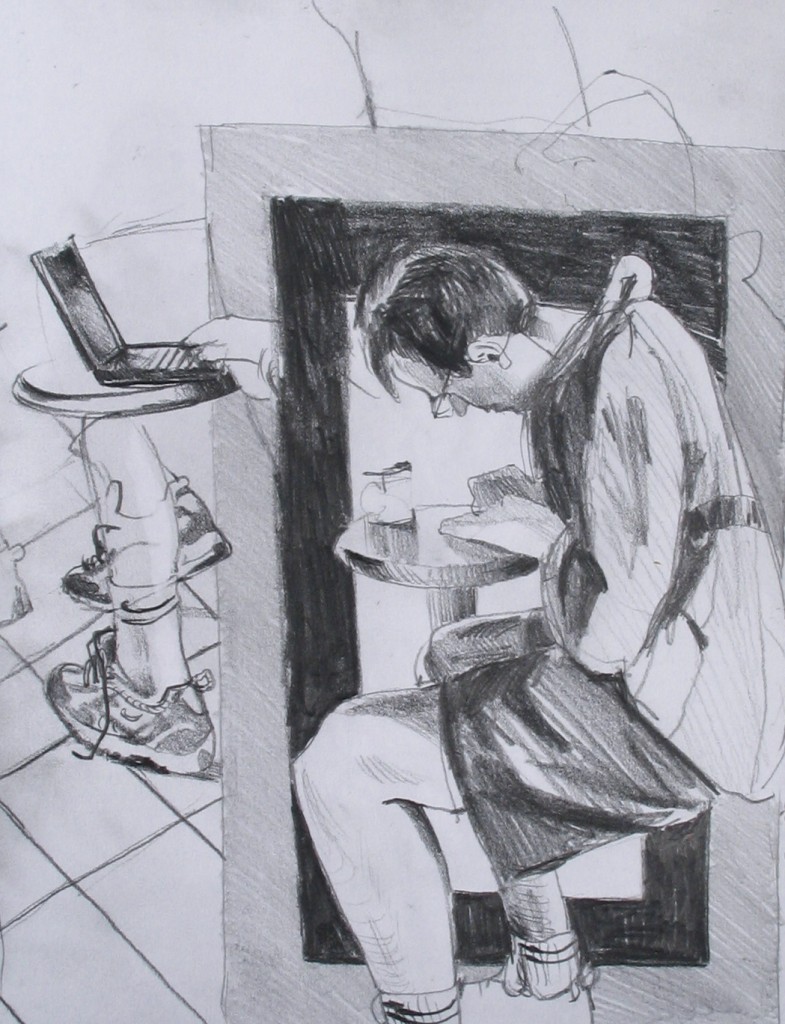 I have been putting off blogging for a while this month. I Haven't really known what to blog about but see that this is more related to how I am applying myself in my process, meaning when I am not applying myself and actually working with myself within writing, self forgiveness and self correction there usually is "nothing to write about" where when I am more working with myself it is easier to write blogs.
I got a speeding ticket today. That's the first one I have gotten since starting driving here in the city a couple years ago. There was actually a point of relief within me just to get it over with where now I have finally gotten a ticket and can stop wondering when and if I will get one.  (lol)
I had just left my house and was heading out get a coffee. When I got the ticket I was actually "talking out" point about this new phone I got and basically I was looking at this point where since buying the phone  I was finding myself to be very distracted and divided within myself so was looking at what the 'F' is going on that when I got this phone suddenly my world is just not stable so I was debating/deciding whether or not to return it as being a possible solution for me to just stabilize myself again…and then I see the flashing lights of the police car.
When I got the ticket I actually did not react to much. I was driving 82 in a 60 zone.
I found though that getting the ticket pushed me more to have a look at what the fuck is going on with myself in my world. I mean having this whole experience with my phone and experiencing myself as quite disoriented and divided this week, and now to get pulled over by the police and get a speeding ticket, its just like WTF. I really gotta have a serious look at "what's the point"
I decided after I got the ticket "Fuck-It. I will return the phone." Turns out I can't because I already used it more than 15 minutes. I actually didn't want to return it but was kind of stuck in this point of seeing that my instability was somehow related to me getting this phone so just decided to go ahead and see about returning it.
After getting home from not being allowed to return my phone I started writing. I usually write each day but some days my writing is not much and does not really do anything, but these events today in a way pushed me to actually write out some of the points that was busy swirling around inside myself and see if I could support myself to stabilize myself in by directing myself to "get in there" more with my writing.
I found I was a bit more stable after writing and once again see the invaluable support that writing can be as a tool to support oneself in ones day to day living.
I have not blogged much this month and so can even see a link between this point and the instability within myself that had come up this last week. Both in relation to simply not giving myself the opportunity to stabilize myself within writing and also due to having things pile up and pile on top of each other when you procrastinate in doing something where I this point of fear start to emerge within me about "oh no, will I have enough time to get my blogs done this month" instead of just having directed the point so that it is more of an expression instead of an obligation which occur when one procrastinates.
Ok I will leave you with a practical support video giving some perspective on what one can expect or sometimes encounter with regards to facing ones world and getting things done.
Time Management – Walking In Space Time Physical-Breath
http://www.youtube.com/watch?v=NNuhdunb1qs&feature=plcp&context=C3b75e47UDOEgsToPDskK_IqYzluqQVsuv1PHniQh-